Part 1 Roadtrip Recap: Trip Magic Begins
The month of June I had the opportunity to travel across the country with my best friend. If you've been following along, for the last two years I have been completing my Masters in Nutrition in Portland, Oregon and during the last few terms I realized I could finish my program a month early. For many reasons, including my deteriorating health due to toxic mold exposure I leapt at the chance to finish up early and start the journey to my parents home outside Philly for the summer.
It started off half joking when I mentioned to Emma that she should join me as I brought my car across the country. And at first it was just that, I needed to bring the car home. At some point it warped into a reason to travel and expanded into a three week tour across the US by taking the least direct route from Portland to Philadelphia.
As many things did on this trip, everything fell perfectly into place. Emma was moving from Saxapahaw, NC and spending some time at home before starting her Masters in Social Work at UPenn in August. It still feels incredulous to me that we managed to line up three solid weeks in our busy schedules I also hadn't seen Emma in person in two years and though with the marvels of FaceTime and Marco Polo I still felt a closeness with her I was excited to spend an extended stretch of quality time with her.
We planned the trip over Trello, two neurotically organized minds producing the most beautiful color coded plan and I counted down the days to her flight to Portland until finally the time was here.
PORTLAND, OR - an ending and a beginning
I picked up a jet lagged Emma from the PDX airport with a stunning sunset kicking off our road trip reunion. Right away, we fell right back into our groove and I was positively giddy to be back with my partner in crime and show her around the city.
The next day I showed Emma all my favorite spots - Ford Food and Drink for lavender matchas, Crossroads Trading for thrifting, Harlow for a classic Portland veggie bowl lunch. We ventured to the west side of the river for the mandatory tourist stop at Powell's Book's where Emma picked up a map of the USA that we used to track our route the course of the trip. We then met up with Greta and her mom for coffee and my favorite gluten free vegan desserts in the city at Petunia's Pies & Pastries to share a spread of treats.
The night ended with a Rooftop Sendoff thrown by my friend Mira to say goodbye to all of my friends. It was a gorgeous night, reminiscing and having world's collide introducing Emma to all the dear friends I've made during my time in Portland. It was a bittersweet goodbye, I left feeling so very loved and grateful for my classmates who have cheered me on while I was taking prerequisites for ND school, applying, sending me videos of encouragement on interview day, and celebrating with me on my acceptance. I can't wait to see all of the incredible things my cohort goes on to do.


The next day Emma and I headed to the Crystal Springs Rhododendron Garden and experienced one of our first moments of #tripmagic. We arrived at 9:50 AM and were told the garden was free until 10 AM so we waltzed right in feeling very proud of ourselves for saving the $5 entrance fee. There were tons of playful ducks around and while we missed peak rhododendron blooms it was a fun oasis in the city to explore. We wandered around and talked about our intentions for the trip - to embrace ease and be open to whatever opportunities find us. On a trip like this where there is so much to look forward to we wanted to focus on living each day fully and staying present as best we could.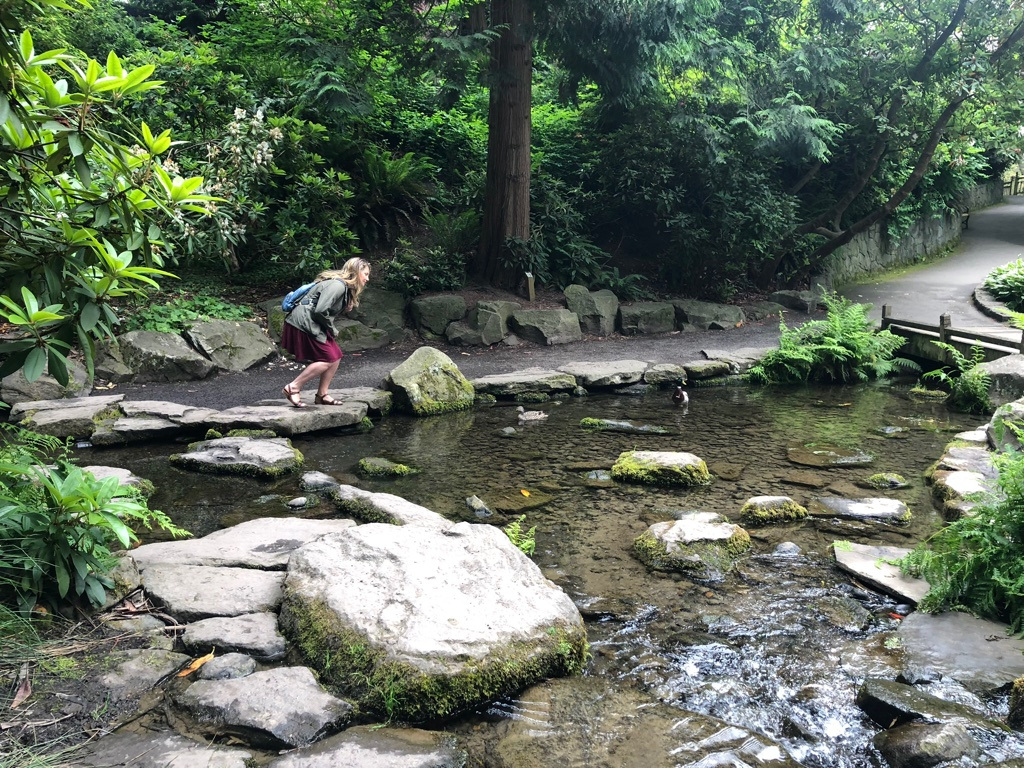 Next we headed to my other favorite study spot, Townshend's Tea. I had a "free cup" of tea on my punch card that was burning a hole in my pocket so we sat down for a two pots of Mt Hood Vanilla and the Healing Tea while we plotted out our next few days of the trip. For lunch we headed to the Hawthorne Asylum Food Cart pod where we split a sushi burrito and waffle sandwich with Brew Dr kombucha to chase it all down.

The rest of the day was spent stocking up on snacks and packing the car, ending the night with dinner and drinks at Verde Cocina with Greta and her brother. I went to bed that night feeling immensely grateful for the friendships I formed and the lessons these two years have taught me.
EUREKA, CA - always stop for the view
Day 1 of the official road trip kickoff brought a bright and early wake up call as we said our final goodbyes to the Jarvis family. We began our journey east by going south (like I said, least direct route possible), a 10 hour drive to our campsite in Eureka, CA. We had prepared ourselves that this would be the worst day of the trip and at least we would get the longest drive out of the way first.
…what we were forgetting is that the Oregon countryside is jawdroppingly beautiful. In the 10 hour drive the scenery we got to see was like watching a cinematic panorama, full of gasps and oohs and ahhs as our eyes would widen from the sheer beauty before us.

At one point I was driving and Emma was just starting to take a nap when we passed by a HUGE arrow painted on a pavement hill at a road pull off with the words "OCEANVIEW" above it. We were worried about getting to our campsite while it was still light out and we had a lot of road to travel that day so we didn't initially turn off. Quickly we decided to screw the plan and veer off to see what this ocean view was all about.
You couldn't see anything as you were heading up the hill but as soon as you reached the top, Emma and I let out the loudest gasp because there was the Pacific Ocean in all her glory. We couldn't stop giggling thinking we almost drove right past this insane vista.
… little did we know that this stunning ocean landscape would be our view for the next 4 hours but I'll take this moment of pure awe any day.
We continued onto the Pacific Coast Highway, crossing the border to California. For hours we would be cruising down the ocean and then duck into the forest and be surrounded by trees. We could feel ourselves physically deflate, encompassed with the peaceful hues of blue and green. With Emma's expert DJ-ing, the drive we thought would be the worst of the trip ended up being one of my most cherished memories.

In true Mel and Emma fashion we stopped for our idea of "fast food" - the Northeast Co-Op hot food bar to pick up dinner to bring to our campsite. Leave it to us to find a Co-Op wherever we go.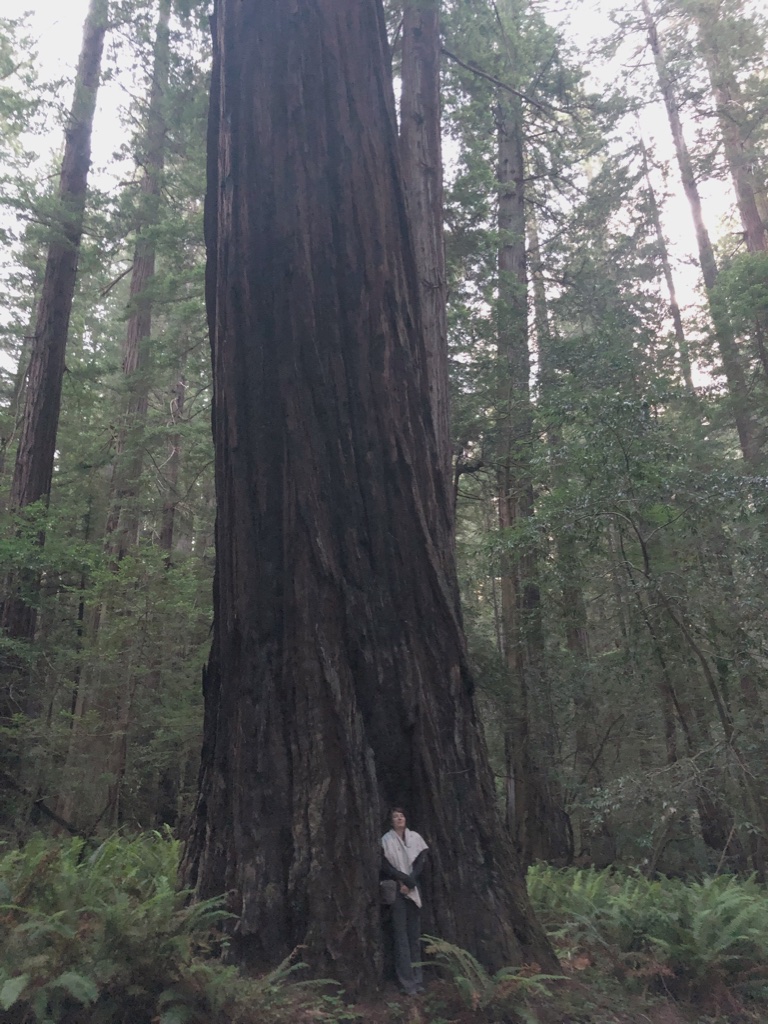 Driving through the Redwoods at golden hour felt like a karmic gift. We were both brought to tears to witness the gentle giants, unshakeable withstanding the test of time. The road was completely ours, as we watched the light shining through the misty haze of the forest.

We stayed at the lovely little Albee Creek Campground in the Humboldt Redwoods State Park setting up our tiny tent and doing what would become our daily evening recap of the day. We climbed into the tent with a peaceful heart.
BIG SUR, CA - big magic
Does anyone sleep well in a tent? We definitely didn't HA. We woke up at 6 AM on Day 2 successfully making some instant coffee but accidentally kinda almost setting the whole campground on fire with our gas powered stove. We headed out saying goodbye to the Redwoods but first stopping at a Big Foot store on the side of the road to pick up our first travel companion, a meditating garden gnome Emma named Humboldt.
We were headed to Big Sur that day but by another stroke of #tripmagic, Emma's sister happened to be outside of San Francisco visiting friends right when we would be passing through on our route. We had lunch at Cholita Linda's and stocked up on coffee before we continued on listening to an Armchair Expert episode as we sat in Bay Area traffic and fog.
Traveling on Highway 1 is reminiscent of a scene from Lost, sometimes thrilling sometimes downright terrifying as you twist and wind the cliffs, along the foggy coast. We passed by the hoards of tourists taking pictures by the Bixby Bridge, weaving in and out as our cell service cut out. Finally before I started to feel really car sick we arrived at our campsite, Plaskett Creek Campground. We set up our tent quickly so we could walk across the street to check out the view. We spent so long planning and saving for this trip that it made me really emotional to be standing on the cliffs with my best friend taking in the sights that I had only dreamed about from pictures.
We made our own dinner that night tossing fire roasted veggies with chickpea pasta and capping off the meal with peanut butter s'mores. We headed to bed early (this time with melatonin in hand) to rest up for a full day of adventures.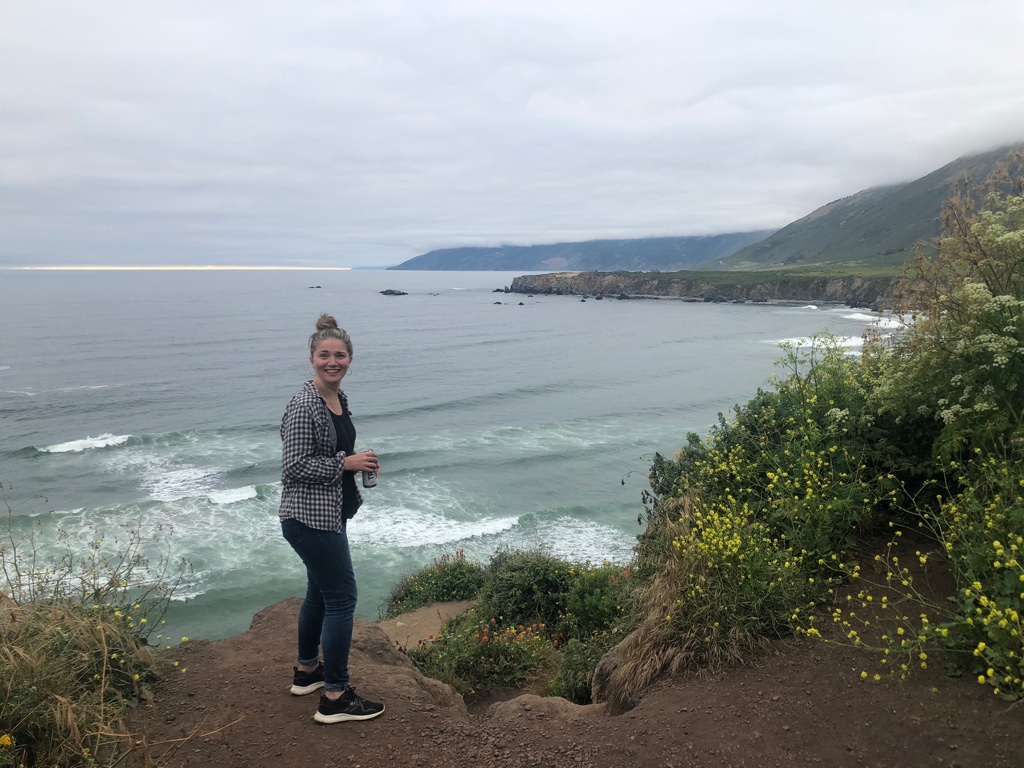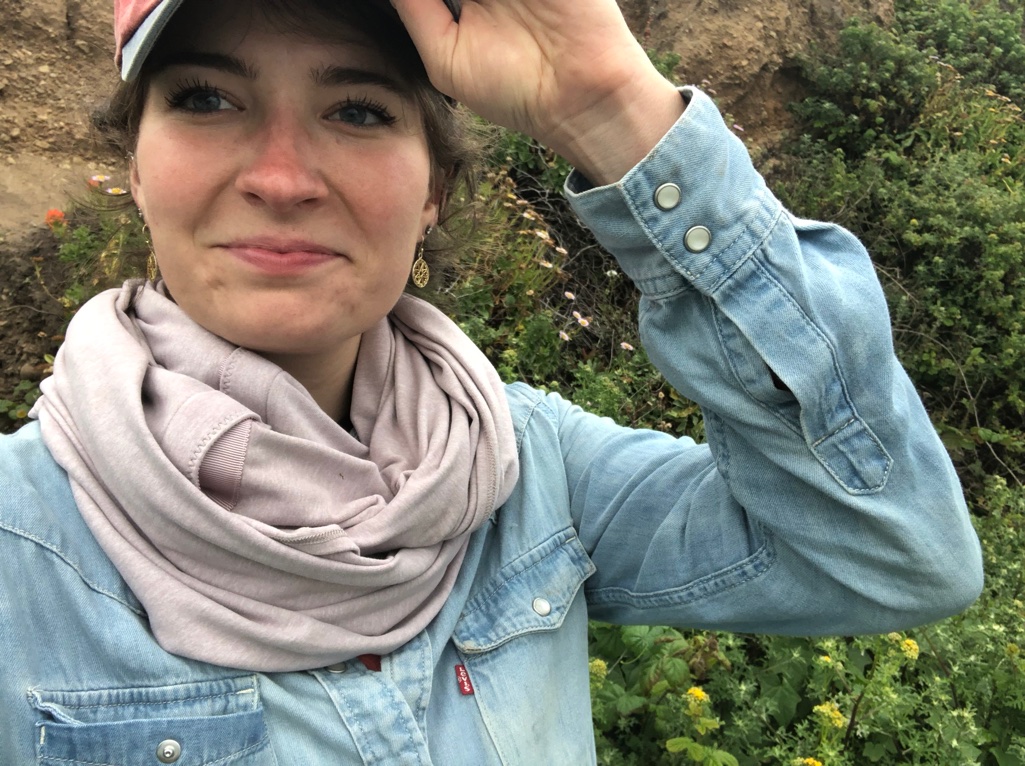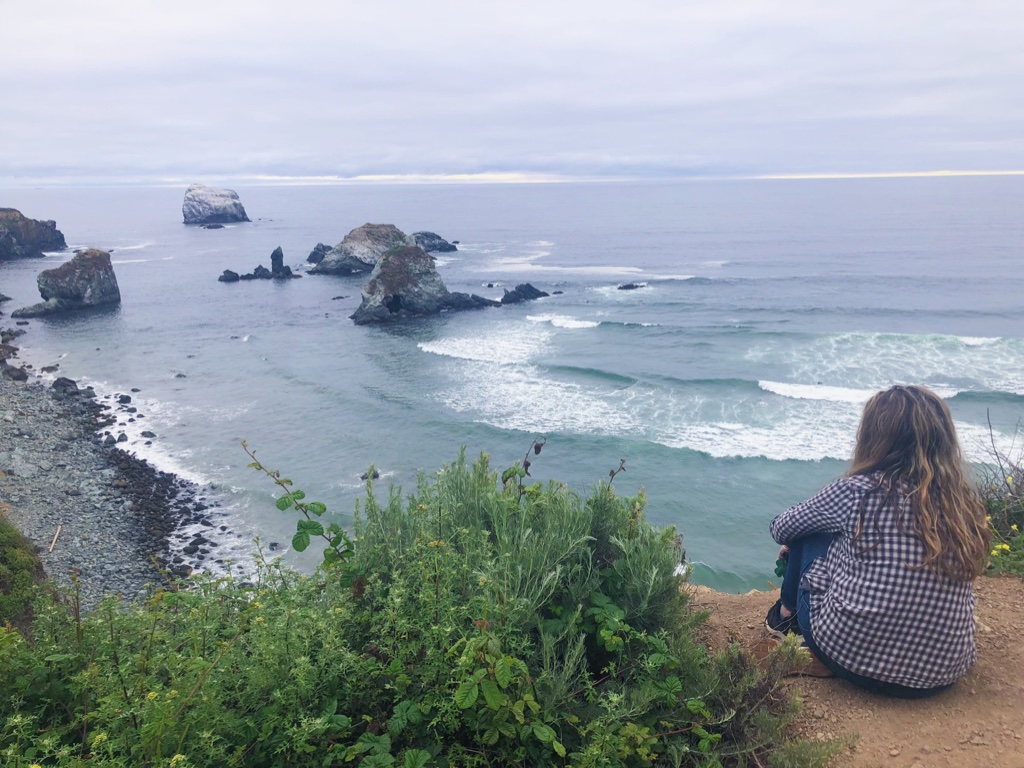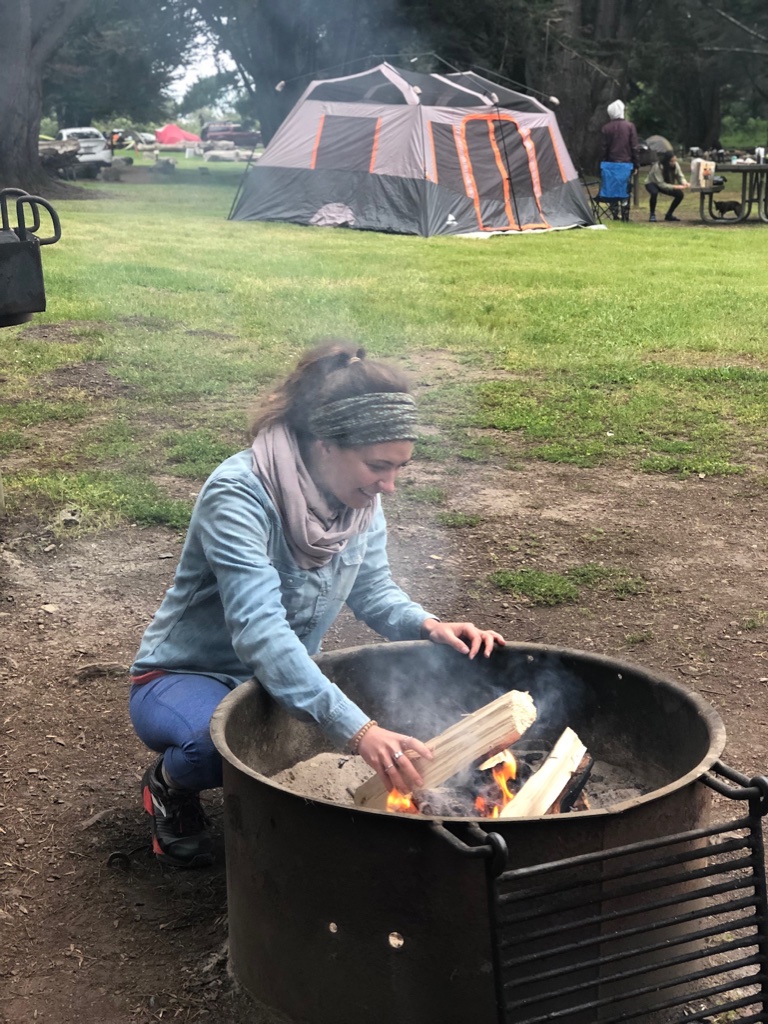 We woke up on Day 3 to a heavy mist settled over the campground, enjoying a leisurely morning with instant coffee and oatmeal. One of our more brilliant decisions on the trip was to space out the long drives with extended stays in some of the locations. Having a full day to explore Big Sur and not have to endure a long car ride helped make the trip more manageable. As we said many times on the journey, it's was a marathon, not a sprint.
We were headed to Andrew Molera State Park for a hike, but we made a pit stop at Big Sur Bakery for a $9 almond croissant and $5 drip coffee. Big Sur ain't cheap, y'all. Onward to our 8 mile hike, which was hands down the best hike I've ever done. It started with you having to wade knee deep through a river before a steep uphill climb, gnarled trees, surreal ocean views, and the hike ending on the beach. Big Sur is one of few places where you don't have to decide beach or mountains - you're awarded with both.
With a quick change in the car we headed to Nepenthe, a beautiful restaurant in the cliffs overlooking the ocean. We split a dish of ahi tuna, asparagus, olive tapenade, roasted fingerling potatoes, and garlic aioli with some sauvignon blanc. We each spent $50 and truthfully left hungry after hiking 8 miles HA. Chock this one up to having the experience… definitely a hard place to go if you're on a budget but the view was out of this world. We rounded out our meal pack at our campsite with about 6 peanut butter s'mores apiece and passed out for the night.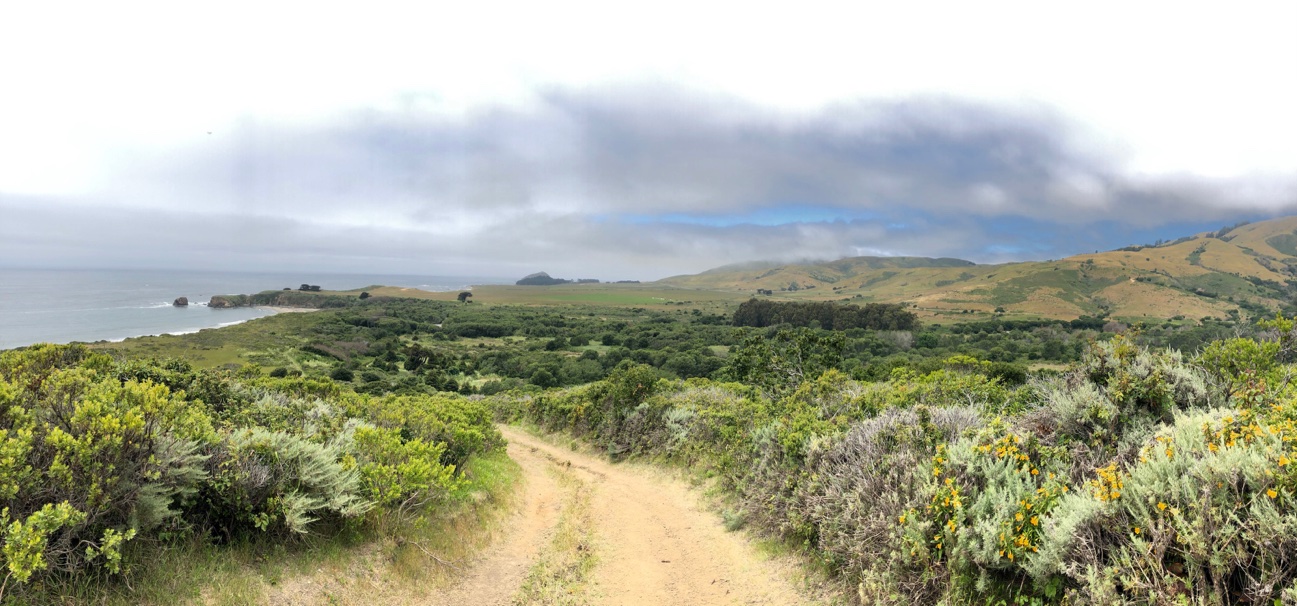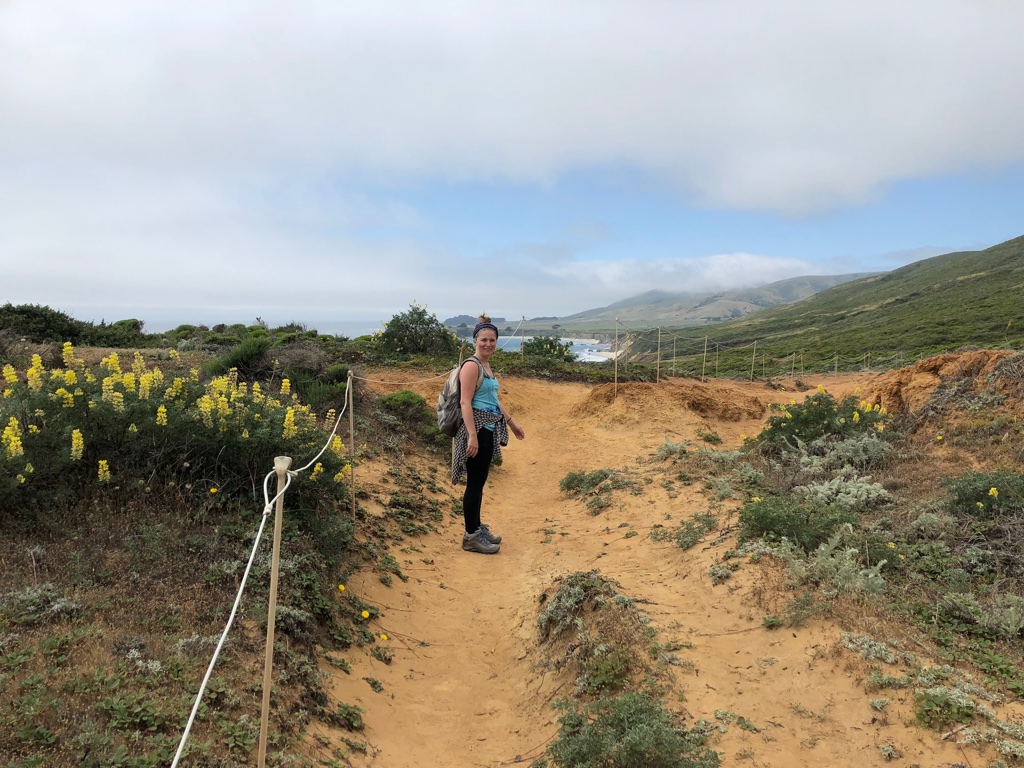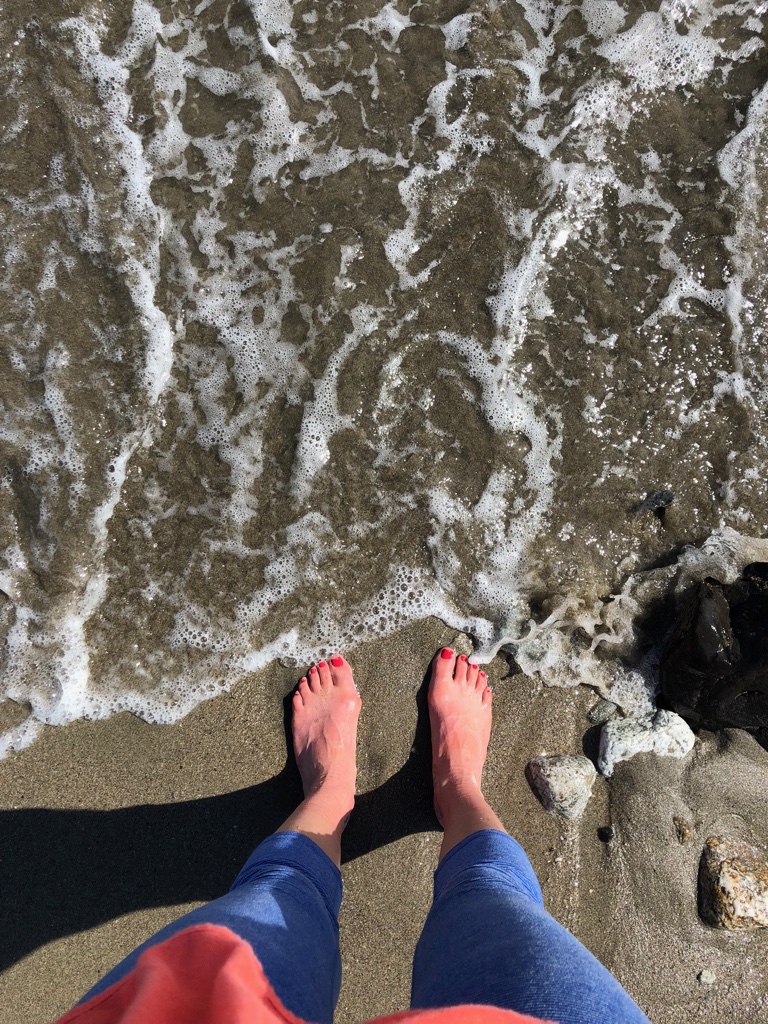 LOS ANGELES, CA - bull scouts unite
Sad to leave Big Sur, we said our goodbyes to the coast with instant coffee and oatmeal in hand. We began our drive on Day 4 to Santa Monica, where we would be staying with our dear friend Paige for the next three nights. The drive passed uneventfully, with a scenic drive through Malibu and our prize for a day of travel being a long awaited hot shower. PRAISE. We went to dinner at Blue Plate Taco and headed back to Paige's to enjoy homemade ice cream made by her sister Katherine.

Katherine and Paige are the ice cream connoisseurs behind The Skoop Sisters. They review ice cream shops local to LA and across the country on their travels, basing their "Skoops" rating on three categories - establishment aesthetic, variety, and product quality. Check them out for recs on their favorite ice cream stops. Warning: intense ice cream cravings likely.
We slept in on Day 5 and enjoyed some eggs and homemade sourdough (Katherine you're the best). Paige had to go to work so we headed to the Santa Monica Farmer's market which was possibly the most friendly farmers market I've been to and I lived in Portland for two years. We sampled seasonal fruits, the juiciest dates, and picked up some salty goat cheese for lunch. We headed back to welcome the fourth member of the Bull Scouts flying from Durham, NC - sweet Katie!

The year after I graduated from Elon, Emma, Katie, Paige and I were all living in the Durham, NC area. It was the year I was diagnosed and without these women I wouldn't have laughed nearly as much as I did. We had weekly Wednesday "game nights" (no games were ever played) where we would talk, snack, and cry with each other trying to navigate the wild world of post-grad life. We called ourselves the Bull Scouts, a nod to Durham's nickname Bull City. Even time zones and miles away in Portland, I always felt their support but nothing beats being all together again.

Katie is a Cali girl at heart and immediately took us to her favorite coffee joint, Philz. Wow did we love Philz. We spent the afternoon walking the Santa Monica Pier watching street performers and singers, catching up with Katie on our travels so far. We met up with Paige at Cafe Gratitude, a restaurant where you place your order with affirmations (yaaaas) and in true Skoop fashion ending the night with Salt and Straw ice cream and walking the Venice canals.
Day 6 was our full LA city day started with Philz, of course. We headed first to the Getty Center Art Museum which is free (amen to that) and a true oasis from the hustle of the city. We arrived right as the architecture tour was starting (#tripmagic) and learned about how the museum was designed to be art everywhere you looked. With it's clean lines and thoughtful design I felt my eyes relax after being around LA traffic and hoards of people. We only had time to wander the special Bestiary exhibit and zen gardens after the tour, but you could easily spend a whole week there looking at their impressive art collection.
For the true California experience we had to make a stop at In-n-Out, which Emma and I had never had before. We went to Sunset Blvd and I ordered a burger in a lettuce wrap with fries, and it was guuuud. From there we walked to Hollywood Boulevard, which was quite a sight.

The most difficult part of LA for me is the juxtaposition of immeasurable wealth next to the poorest of poor. Along the Hollywood Walk of Fame, a place that I had always envisioned as glitzy and glamorous, the street was lined with houseless individuals and open illicit drug use. For movie events and star unveilings, this must all be pushed out of sight and that gives me a pit in my stomach. We didn't stay long, truthfully it felt wrong to be geeking out over famous stars when there while passing so many people struggling.
We headed to the next LA tourist destination, the Griffith Observatory. We were honestly pretty spent at this point, having walked all over the city so after we saw the misty Hollywood sign and the LA skyline we headed to dinner. We went to Sage Vegan Bistro and enjoyed gluten free fried artichoke hearts and mac and cheese balls, a BLTA pizza with buckwheat crust, and the Perennial Bowl with plantains, shredded papaya, and collard greens. It was truly delish and we left with happy bellies. We headed back to Paige's for an evening with the Skoop Sisters and enjoyed some homemade caramel while discussing our charts with our astrological guru Katie.
I went to bed that night thinking the very best part of traveling is not the adventures, incredible views or even the food, but the people with who you get to share it.

And that was just week 1… Stay tuned for Part 2 to see where we headed next!